The KCH-Group GmbH provides a fully comprehensive range of products and services for industrial corrosion protection. We offer a complete system from a single source. This extends from optimized material selection through to interface management, production, delivery and installation right up to the warranty.
RUBBER LININGS
We supply workshop rubber linings from our modern production plant. Our regional and worldwide service teams carry out extensive on-site rubber lining work, for example in flue gas desulfurization systems. Various forms of rubber sheeting are used not only for protecting steel structures but also for concrete structures exposed to corrosive stresses. They have also been a great success for lining transport vessels.
SYNTHETIC RESIN COATINGS/LININGS
Our synthetic resin coatings cover a wide range of applications. We supply coating systems for chemically and thermally highly stressed structures such as the gas ducts in flue gas desulfurization systems, as well as systems for the corrosion protection of large vessels, settling basins, channels, industrial floors and tank pits.
CERAMIC TILING SYSTEMS
As a protection against mechanical stresses due to vehicular traffic installation work, ceramic coverings are used. They also increase the chemical and thermal resistance of the surface finish. The tiles are bedded in synthetic resin cements that are chosen to withstand the stresses concerned.
BRICK LININGS
Our ceramic or carbon brick linings offer abrasive wear protection and increase reliability. Chemically stressed equipment, vessels, pipework, ducts and pits that are also exposed to thermal and mechanical stresses are given a brick lining to back up the sealing layer.
REFRACTORY LININGS
We supply linings for chemical furnaces as well as sewage sludge and garbage incineration furnaces and sulfur burner in sulfuric acid plants. We carry out lining work with molded and unmolded refractory materials.
FANS
Our fans are used wherever stringent chemical demands apply. We manufacture a range of special designs with increased throughput and pressure, meeting customer requirements right across the range from axial and radial fans to radial roof fans in various sizes.

Link til side med datablad på ventilatorer
COLUMNS
Columns and column internals are produced from DIABON® graphite and/or PTFE-lined LICUFLON® elements. They meet exacting demands on corrosion resistance and ensure a high level of operational reliability and safety. When used in chemical process engineering and environmental protection technology they provide economically viable solutions to problems that may arise.
SAFETY DISKS
Graphite safety disks are manufactured from DIABON® high-grade process equipment graphite. The highly homogeneous structure of this fine-grain graphite ensures constant strength values in the disks. Subsequently, in an emergency they actually burst at their rated bursting pressures.
PUMPS
All our expertise in process equipment fabricated from graphite is also evident in our pumps. The standard centrifugal pumps have been used successfully in the chemical industry for over 40 years. Besides the standard types, we fulfill all sorts of special customer requirements.
HEAT EXCHANGERS
We manufacture heat exchangers that are highly efficient and economical in operation. They have a long record of use for heat exchange and mass transfer processes in the organic and inorganic chemical industries, as well as being resistant to acids, alkalis and other aggressive media.
Retur til startside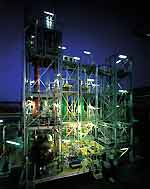 Pre-assembled units mounted on skids: ready for use after being properly connected to the existing process system (two HCl gas synthesis units and one acid synthesis unit, supplied as modules.
SYSTEMS FOR HCI GAS, HYDROCHLORIC ACID, SULFURIC ACID, EXHAUST GAS, FLUE GAS
Our systems consisting of heat exchangers, columns, tanks, pumps and pipework cover the complete spectrum of process engineering for corrosive media. Whatever the materials and process engineering problems, anything from the treatment of HCI by absorption, distillation, stripping or evaporation to the dilution and concentration of sulfuric acid or the cleaning of flue gases, SGL Acotec has the solution.